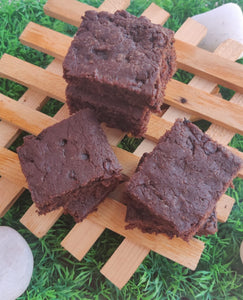 You can now enjoy your brownies guilt free, yes!!!
Whole wheat Brownies with gooey centre and generous amount of dark chocolate chips.
Includes Egg
Quantity: 80g / piece, Total Weight: 800g
Delivery within 2-3 days
This product is available for delivery only in Chennai 
Hi Ruqaiyah Bakes.. Thanx for sponsoring brownies for creating crafting session... If was loved by my kids, very chocolatey n yummy😍... Both quality and quantity wise it was satisfying 👍
wheat brownies
Some time back we had ordered wheat brownies from ruqaiyah bakes and I must say they were delicious. It was neatly presented and the packing was also good. We strongly recommend a go at it . We are planning to order pastries also shortly.
Wishing Ruqaiya bakes all the best.