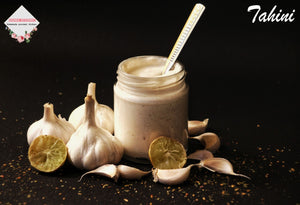 Home-made creamy mayonnaise based sauce to enhance the flavours of middle eastern dishes.
Use it as a spread for your hearty falafel rolls, shawarmas or as a sandwich spread. This creamy, tangy sauce goes well with roasted vegetables and salad as well. 

100% Vegetarian
Shelf life is 10 days. To be refrigerated.
Delivery within 3 days
This product is available for delivery only in Chennai 
Nice
The tahini was really nice and creamy and full of flavour
Tahini
Had ordered tahini dip for shawarmas ... It was just awesome.... The dip was so so flavoursome can't have enough of it..
To good
Flavoursome
We had ordered a main course dish and along with it came this sauce made by lazeez.
It was top notch. Restaurant quality if not better . Quantity also was a good big jar and it was completely worth it.
This sauce goes well with both veg and non veg dishes. So whatever the dish . This sauce is a must try for all !
An Arabian Dream!
What a lovely re-introduction to Middle Eastern cuisine this has been! There's always a difference between store bought and homemade Tahini and this was by far the best I have ever had!
It goes with any salad I make, as well as a dip for anything, including the most random thing such as kurkure! (Try it. It's amazing)
A great party snack accompaniment.
Quantity is worth the price and would've lasted 2 weeks had we not finished it😉