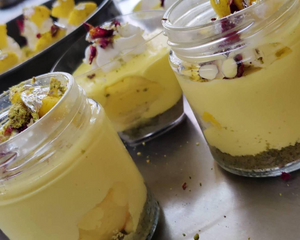 So say cheese! It's Rasmalai cheese cake. 
This cheesy treat is just the right amount of sweet without being overpowering. These melt in your mouth. Servings are rich and cheesy with a crumbly biscuit base. It looks just as delicious as it tastes.

100% Vegetarian 
Quantity: 2 Jars - 130g each
Delivery within 2-3 days.
This product is available for delivery only in Chennai 
The best bakes are here
This lady bakes with her heart. That is the reason why you get impeccable taste and quality with timely service
Cheese cAke
Super yummy n very delicious
Enjoyed every bite
7* Lips Smacking and Yummy.
Rasmalai Cheesecake Jar;
FANTASTIC! have to tell you, the flavor was out of this world and Perfectly Blended.