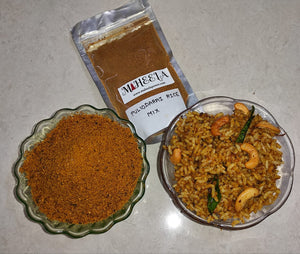 Homemade Puliyogare powder used for making Tamarind rice - an all time favourite rice dish in South India. 
Ingredients: Tamarind, red chilli, urad dhal, channa dhal
Mix puliyodharai powder with cooked rice. 
100% Vegetarian, Freshly made at home with good quality ingredients in a clean and hygienic environment. No preservatives added. 

Shelf Life: 6 months
Storage & Care Instructions: Store in a cool, dry place. 
Quantity: 100 gms
Delivery within 2-3 days