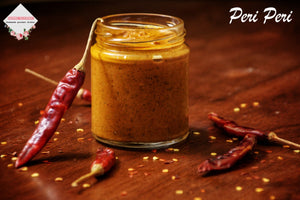 Perfect Marinade for spicy palates made with olive oil. Home-made ready to use sauce for instant cooking.
Can be served with vegetables, rice, salads, bread.
Used as a marinade for paneer, chicken and meat dishes.
Goes well with snacks like french fries, potato wedges, vegetable momos, spring roll, aloo tikki, and more. 

100% Vegetarian
Shelf life is 7-10 days. To be refrigerated.
Delivery within 3 days
Check out the video recipe of Peri Peri Chicken with Noodles at https://www.youtube.com/watch?v=SQpNMcvN8_E
This product is available for delivery only in Chennai 
Spicy
Peri peri sauce is a little more spicy sauce n had to put half a lemon while marinating chicken pieces . But the outcome was super delicious. Highly recommended
Flavour Bombs
I would name Lazeez sauces Flavour bombs as well like in the previous review as they truly justify the title...amazing spices added to perfection...and very handy marinades as well...specially for fast to cook good to eat meals...a must try!!
Absolutely Delectable
Filled with amazing flavours and a good touch of spice that awakens your taste buds and gives a spice blast. Can be used as a marinade for chicken (without adding anything else at all) and the dish is ready, Goes well with their tahini sauce as a dip (which I just love). Also I also use it to marinade my paneer for paneer tikkas and believe me it tastes just yumm. Good shelf life and best quality which is the best part, nothing compromised. Reasonable pricing for such a quality product.
Deliciousness
All sauces made by Lazeez Kitchen are a perfect balance of flavours . Highly recommended. Quality , quantity , flavour ... everything is bang on !
Flavour Bomb!
What an absolute delight to the palate and the versatility of your Peri Peri makes it worth it. Till now, I've used it as a handy chicken marinade (extra seasoning not required as well!), as a side for my breakfast omelette, as a dip for my beloved momos and fries ❤ Felt like a masterchef with this sauce up my sleeve.
The quantity for the price was beyond my expectation and lasted well upto 8 days straight!
A must try and must buy, and in my case keep in stock at all times. 👍