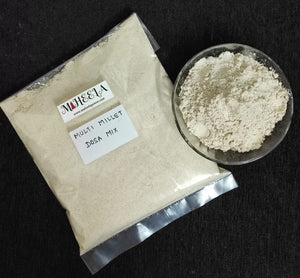 Homemade Multimillet dosa mix for a healthy and satisfying breakfast. 
Ingredients: Proso millet, little millet, foxtail millet, barnyard millet, sorghum millet, pearl millet, ragi, brown rice, black urad dhal
How to make dosas: Take millet flour in a bowl and add water to dosa batter consistency. Cover and leave it to ferment for 8 hours. Add salt. Heat tawa and make crispy dosas. 
100% Vegetarian, Freshly made at home with good quality ingredients in a clean and hygienic environment. No preservatives added. 
Shelf Life: 6 months
Storage & Care Instructions: Store in a cool, dry place. 
Quantity: 500 gms
Delivery within 2-3 days
Check for homemade podis available at https://www.maheelapower.com/collections/condiments-masalas-sauces