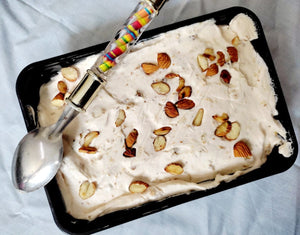 Enjoy and relish this nutty and delicious Fig Almond Ice cream! This ice cream has a soft and creamy texture.
Ingredients: Fig, Roasted Almond
100% Vegetarian
Shelf Life: 1 month / Storage: In Freezer (Below -15 degrees centigrade)
Quantity: 500ml
Delivery in 2-3 days
Ice cream delivery is available only in Chennai
Fig and almond ice cream
Delicious and creamy . A feast for your palette.