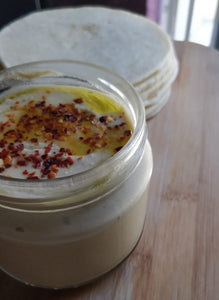 Homemade Hummus is a middle eastern dip that is ideally eaten with any kind of chip such as nachos, pita chips, lavash, khakhra, etc. For the health conscious, it also goes well with salad sticks such as cucumber sticks, carrot sticks, celery sticks, etc.
Made with tahini, olive oil and chickpeas, it makes the perfect healthy snack to keep you hustling during the day.
Made with the freshest of ingredients. Made at home in a perfectly clean and hygienic environment. 
100% Vegetarian
Shelf Life & Storage: 4 days. To be refrigerated. 
Quantity: 200gms
Delivery within 2-3 days
This product is available for delivery only in Chennai