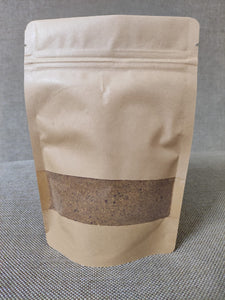 Homemade Bisi bele Bath Powder has the right blend of spices and other flavorful ingredients to make the South Indian delicacy which is prepared with a combination of rice, lentils and vegetables. Served hot with Raita / Boondi. 
Ingredients: Chana Dhal, Urad Dhal, Whole Garam Masala, Red Chillies, Curry leaves, Fenugreek and more

100% Vegetarian Masala
No preservatives and made in a clean, hygienic environment. 

Shelf Life & Storage: 6 months in dry, air tight container.
Quantity: 50g / 100g
Delivery within 2-3 days