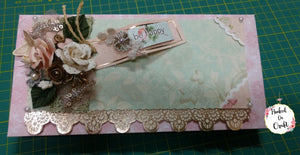 An elegant, handcrafted envelope with pretty pastel flowers and a little bit of bling just right to add a special touch to your cash gift for weddings, birthdays or festive occasions.
Note: Colors and Designs may slightly vary. 
Delivery within 3 days
Excellent!!
Products are so pretty and dainty its difficult to part with and makes gifting so much more meaningful !!
Innovative
Found the vendor's work of crafting quiet intricate and innovative .
Would definitely recommend them as they are indeed fanciful and am sure a pleasure for the recipients as well.