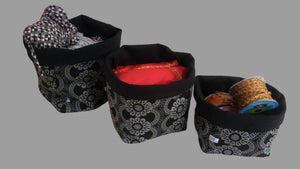 Light weight cotton storage cases used for storage of socks, toys, etc. Easy to keep it in shelves and wardrobes . All purpose. Easy to handle.
Made with cotton fabric with 3 layers. Washable in a cold water. 
Set of 3 
Size - L = Length 28 cms, Diameter = 24 cms
Size - M= Length 23 cms, Diameter = 22 cms
Size - S= Length 19 cms, Diameter= 20 cms
Delivery within 2-3 days
Product designed and made by underprivileged women supported by Nandri Trust, a self-help women's group.
Nandri aims to empower underprivileged and abused women through training and job opportunities in the couture domain. Based in Mamallapuram, Southern India, the public charitable Trust helps with long-term solutions by handing them the keys to get by on their own, advocating dignity and sustainability.