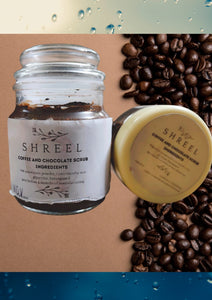 Coffee has antioxidant properties. It refreshes the skin and increases the energy level. It can be used as Face and body scrub.
It's natural, vegan, organic, cruelty free and packed in reusable packaging. No artificial color or fragrance has been used in it.
Benefits: Exfoliates skin - Removes dead cells and awakens it. Radiant looking skin- within a fraction of seconds you can see the difference in skin. Works as a natural moisturizer. Soothes skin irritation
Ingredients: Distilled water, Cocoa Powder, Coffee Powder, Coconut oil, e wax, Vegetable Glycerin, Iscaguard peg (mild Preservative)
Directions to use:
1. Dampen your face
2. Take a pinch of Coffee and Chocolate scrub
3. Gently scrub for 2-3 minutes.
4. Rinse your face with water and pat dry
Shelf Life: 4 months 
100% Vegetarian 
Delivery within 3-4 days