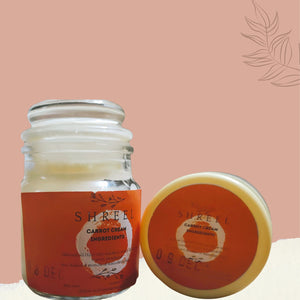 Carrot Cream is made up of carrot extract. Real carrots are soaked in oils and extract is used for making creams.
Can be used as face or body moisturizing cream. Can be used in any weather. No artificial colors or fragrance is added. Safe for kids above 5 years.
It's vegan, organic and cruelty free. Recyclable plastic has been used for packaging. 
Ingredients: Rose water, almond oil, carrot extract, olive oil, e wax, glycerine, iscaguard peg (natural preservative).
Benefits: Carrot is rich in vitamins, beta-carotene in carrot protects from sun's rays , repairs the skin tissue. Moisturizes the skin, making skin extra smooth.
Directions to use: Take a pinch of cream. Massage gently on face. Can be used 2 times a day. Also can be used as make up base. Mix with foundation and use it on face. 

100% Vegetarian 

Delivery within 3-4 days