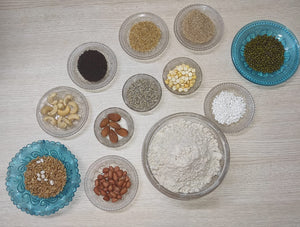 Enjoy this tasty home-made health drink which is a nutritious blend of whole grains, cereals, millets, pulses, spices.
Rich in protein, dietary fiber and iron.

Combination of 20+ natural ingredients: 
Mapillai samba, Samba wheat, Ragi, Red rice, Black kavuni, Bengal gram, Pearl millet, Little millet, Barnyard millet, Kodo millet, Foxtail millet, Barley, Soya bean, Black urad dhal, Horse gram, Green gram, Roasted gram, Sago, Groundnut, Almonds, Cashews, Dry ginger
100% Vegetarian, Freshly made at home with good quality ingredients in a clean and hygienic environment
Shelf Life: 6 months
Storage & Care Instructions: Store in a cool, dry place. 
Quantity: 250 gms / 500 gms
Delivery within 2-3 days
Recipe Video on how to make Health Drink: https://www.youtube.com/watch?v=I1cMRIUdaYs
I just loved it ….. adding edible gum (gundar)and jaggery enhances its taste. Thanks to maheela power for intoducing me to this new breakfast.