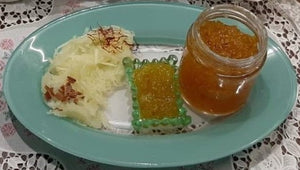 Currently not available
Homemade Aam ka Murabba / Murraba Pickle / Mango Murabba is a sweet and sour delicious pickle made of mangoes, sugar, dash of cinnamon and kesar. It is an accompaniment to parathas and rotis. 
100% natural without any preservatives, additives and chemicals and made in a clean, hygienic environment. 
Quantity: 200gms
Delivery within 2-3 days