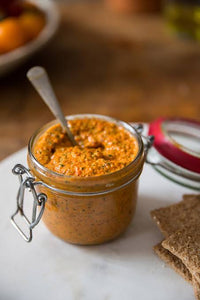 Pesto with the added smoky sweetness of the smoked bell pepper/capsicum. One of the most versatile sauces that can be used on just about everything, from pastas and sandwiches to marinades and salad dressings.
Light, flavorful and packed with nutrients, a great immunity booster ideal for these times.
Bright green basil handpicked from the organic garden at home, generously drizzled with extra-virgin olive oil, with the signature Italian garlicky taste and of course the saltiness from the Parmesan and the textural crunch from the walnuts, pine nuts, pistachios and pumpkin seeds with the added flavor of the smoked red bell pepper.. that's a savoury party in your mouth!
Made with the freshest of ingredients. Made at home in a perfectly clean and hygienic environment. 
100% Vegetarian
Shelf Life & Storage: 10 days. To be refrigerated. 
Quantity: 200ml

This product is available for delivery only in Chennai