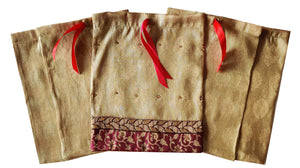 One pack contains 5 pouches in 2 different sizes in pure Tanchoi silk fabric. Each pouch has been provided with matching satin ribbon to tie firmly.
Very handy to use as no adhesive is required. Ideal for small gifts specially convenient for odd shaped ones. These can also be used for giving away cosmetics, curio, clothing like scarf, etc.
Size - 10.5x8.5 in and 10x7.25 in.
It can be used multiple number of times.. An initiative towards "3R - Reduce, Reuse and Recycle"
Delivery within 2 days. 
Product ID: GP0007