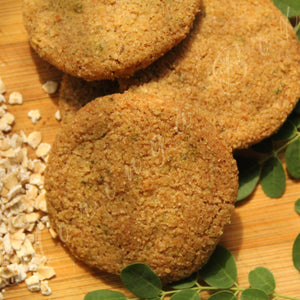 Homemade, Healthy & Tasty - Oats-Red Rice Cookies fortified with Moringa oleifera and with different flavors serve as an excellent option for evening tea time snack and for on the go during travel! Comes in neat packaging - works as a unique gift idea as well! 
Ingredients: Butter, Moringa leaves and powder, Whole wheat flour, Cassava flour, Oats, Red rice, Demerara sugar (type of cane sugar), Himalayan pink salt

Shelf life - 1 month
Storage - To be stored in airtight containers. Keep away from direct sunlight and dampness.
Quantity - 130gms / 250gms
100% Vegetarian
Delivery within 2-3 days