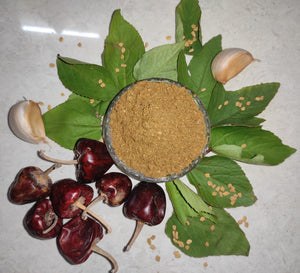 Enjoy the tanginess of home-made gonkura podi with hot steamed rice and ghee.
Main Ingredients: Sorrel leaves, red chillies, dal, garlic, etc. 
Note: No asafoetida/hing is added

Health Benefits: Rich in iron, vitamins and antioxidants; Gives strength to bones
100% Vegetarian, Freshly made at home with good quality ingredients in a clean and hygienic environment
Shelf Life: 6 months
Storage & Care Instructions: Store in a cool, dry place. 
Quantity: 100 gms
Delivery within 2-3 days