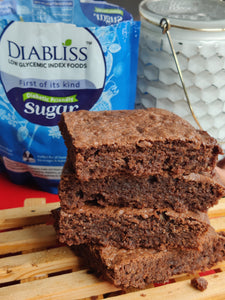 Enjoy these low-gluten, diabetic friendly Brownies! 
Major Ingredients: Emmer wheat (samba wheat), Amaranth/Rajgira flour (Gluten free), Diablis sugar, Chocolate, Butter
Nutritional Facts: Emmer wheat commonly known as samba or Khapli is found to have curative properties for treating diabetes and is very low in gluten. One of the most healthiest grain found in the cereal family - it reduces cholesterol, is good for bones, good for digestive system, reduces constipation and gas trouble because of high fiber content, helps in reducing obesity.
Quantity: 600g

Delivery within 2-3 days
This product is available for delivery only in Chennai 
Yummylicious
Health comes with taste what a combo can't be missed. Super delicious brownies , I never thought it will be so good untill I tried and now it has become my sweet craving savior. Love the choco chips sprinkles on top. Even my 10 yrs old son enjoy eating it. Big thank you to the entire team for such good work. All the best I'll keep ordering 💗💗
Love these brownies!
Since my parents are diabetic this becomes a healthy and amazingly yummilicious option to keep around to satisfy the sweet cravings! Since cant believe these brownies do not contain All purpose flour or Sugar!
Since am in a low sugar and low gluten diet, I have been craving for bakes and sweets and this brownies are perfect in every way. Taste bhi health bhi