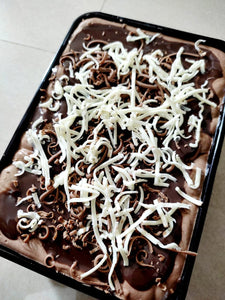 Enjoy and relish this different and unique homemade Death by Chocolate Lasagna Ice cream! It is a layer of ice cream, chocolate fudge and oreo - an ultimate combination for all Chocolate lovers! 
Ingredients: Dark Chocolate, White Chocolate, Milk Chocolate, Oreo Biscuits
100% Vegetarian
Shelf Life: 1 month / Storage: In Freezer (Below -15 degrees centigrade)
Quantity: 500ml
Delivery in 2-3 days
Ice cream delivery is available only in Chennai
Delicious ,it just melts as you consume it.
Awesome
I have not eaten any ice cream for the past 11/2 years due to this pandemic as we were advised not to take anything very cold.I was really thrilled to have this Death by chocolate yummy ice cream as it does not have to be eaten very cold.. even at room temperature it is fine..so finally I had my fill… thanks
True to its name
yummy, the first spoon of this ice cream and I decided that I need more of this and ordered for 2 more boxes of the same. Best buy for the money spent and delivery the next day was prompt. True to its name Death by Chocolate Lasagna was awesome. Worth buying.