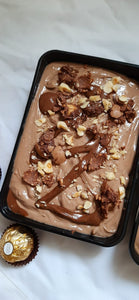 Enjoy and relish this chocolaty and creamy Ferrero Rocher Ice cream! This ice cream has a soft and creamy texture. 
Ingredients: Hazelnut Paste, Hazelnuts, Waffles, Ferrero Rocher
100% Vegetarian
Shelf Life: 1 month / Storage: In Freezer (Below -15 degrees centigrade)
Quantity: 500ml
Delivery in 2-3 days
Ice cream delivery is available only in Chennai
Excellent!
Superb, tasty,creamy ice cream.We loved it!
Ferrero Rocher Icecream
Chocolate lovers go for it, you will not be disappointed. It's creamy like a mousse❤️